At BOTTLETOP our approach has always been to fuse innovative and sustainable materials, artisanal production and technical innovation to have positive impact on the people and the planet.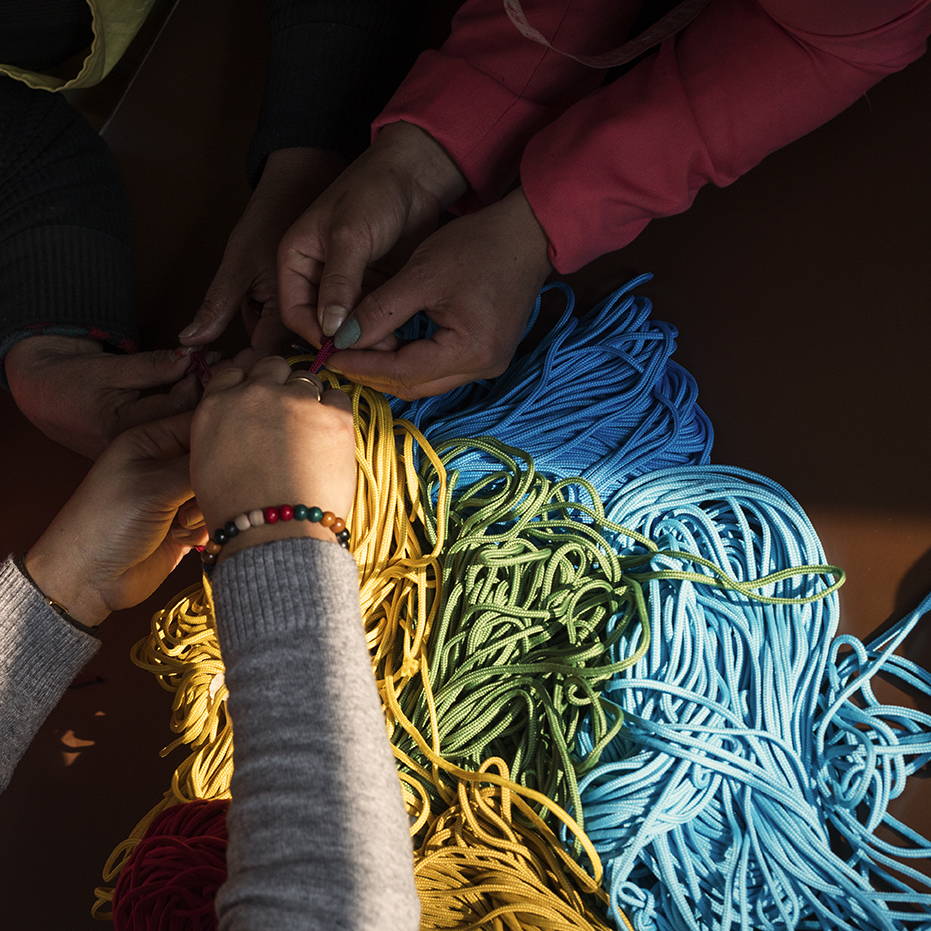 With end to end positive impact, #TOGETHERBAND represents these ideals and each band embodies the spirit of the Global Goals. The materials protect our planet's resources and support NGOs. The making generates sustainable employment for Nepalese artisans, and 100% of the funds generated go towards projects that further the advancement of the Global Goals.At BOTTLETOP our approach has always been to fuse innovative sustainable materials, artisanal production, and technical innovation to have a positive impact on people and planet.
We're proud of the sustainable and ethical journey your #TOGETHERBAND has undertaken to reach you, which is why it's so important for us to tell the story of how each one is made.

Plastic pollution is reaching a critical point, an estimated 12.7 million tonnes of plastic pollute our oceans every year. Your #TOGETHERBAND is a part of solving this issue.Every #TOGETHERBAND rope band is made from 100% recycled plastic. Recovered plastic pollution from the coasts of Costa Rica and the US is transformed into yarn by BIONIC®.BIONIC® addresses ocean plastic pollution by orchestrating recycling operations and beach clean ups, and transforming this recovered plastic into fully traceable high-grade textiles and polymers, including the rope for your #TOGETHERBAND.In fact, for every Ocean Plastic #TOGETHERBAND sold, an additional 1KG of plastic is removed from marine and coastal environments.

There are hundreds of millions of illegal firearms in the world. As a result, someone is shot every minute, making small arms 'weapons of mass destruction.' Humanium Metal is an upcycled stainless steel repurposed from destructed illegal firearms, which are seized by local authorities in Central America. The firearms are melted down and transformed back to raw stainless steel material by IM Sweden Development Partner in Sweden. Your clasp is made from the resulting Humanium Metal moulded into the shape of the signature upcycled ring pulls BOTTLETOP uses in the creation of our products. This gives the steel a new positive life as your #TOGETHERBAND clasp whilst helping to put an end to armed violence and creating new sources of funding for victims and projects aiming to rebuild conflict-torn societies.

From the people of the communities of Costa Rica that collect the coastal and marine plastic debris that is used in our rope bands to the Nepalese artisans working to assemble the finished bands for packaging in 100% recycled card, we provide support to local communities and economies every step of the way.What's more, 100% of the profits from your band will be donated to projects that advance the 17 Global Goals.