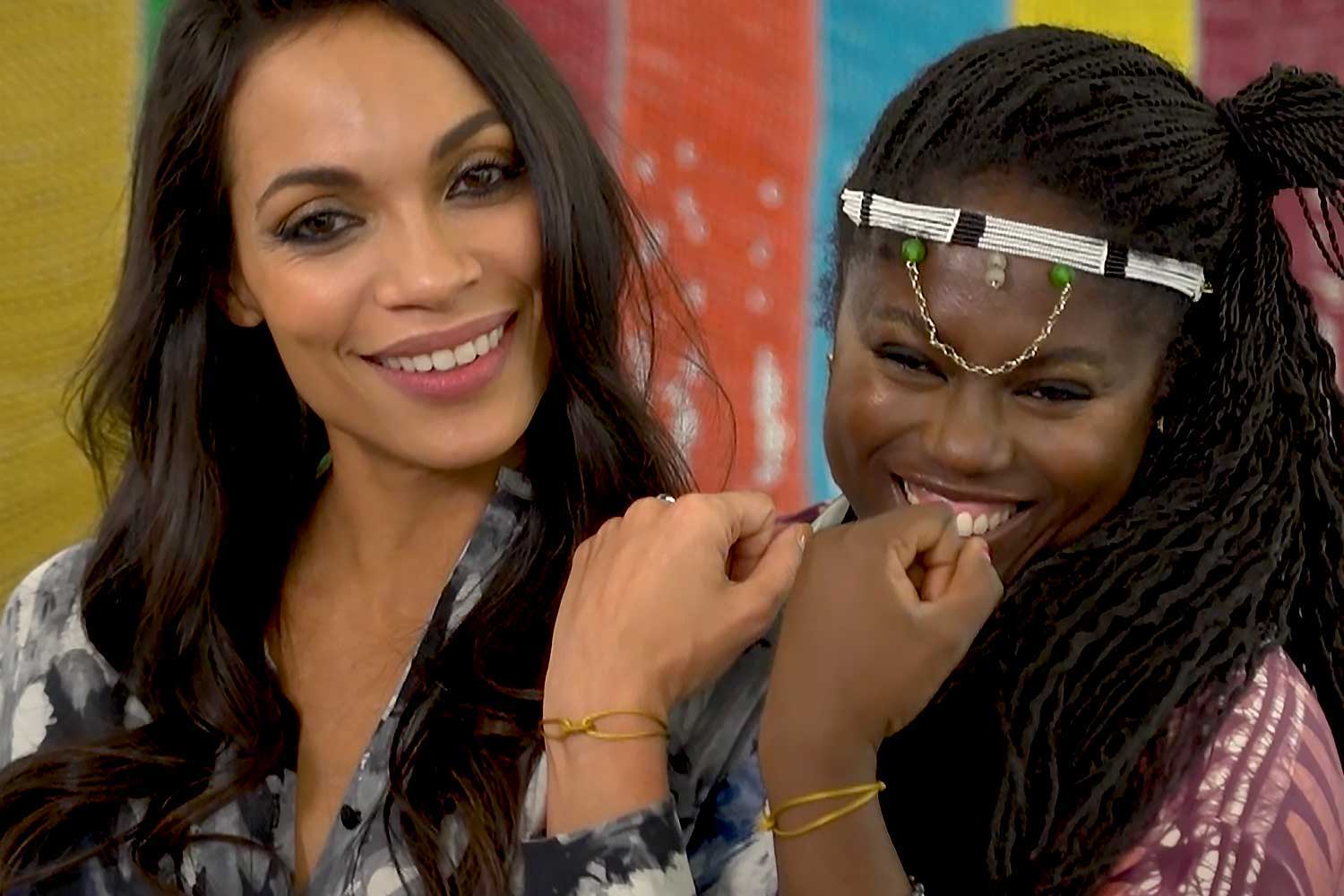 'Fashion Shouldn't Be Something That Destroys'
Rosario Dawson and Abrima Erwiah are the co-founders of the fashion lifestyle brand and social enterprise Studio One Eighty Nine. Made in Africa, and producing African and African-inspired content and clothing, the brand supports artisanal communities by using traditional techniques such as hand-batik and kente weaving. It focuses on empowerment, creating jobs and supporting education and skills training, and recently won the prestigious CFDA Lexus Fashion Initiative for Sustainability.
We caught up with Rosario and Abrima at Art Basel Miami Beach to find out why they've joined #TOGETHERBAND to support Goal 12: Responsible Consumption and Production.

Why did you start Fashion for Relief?
My first modelling job was a location shoot in New Orleans in 1986. So when I saw in 2005 what Hurricane Katrina had done, I felt very nostalgic because I've been back many times since. I just saw people walking with nowhere to go. I saw that the actors were doing a telethon, and the musicians were going to do a concert. So I thought, 'well, it's one week before fashion week. What can we do? 'So that's how it started. I remember calling the boss at IMG [who ran the Fashion Week tents] and he said 'whatever you need, Friday night the last night. You have the tent, let's go'. And then from that point on it was really just reaching out to everyone in my industry that I've met. Ralph Lauren made the official T-shirts, Anna Wintour opened up the closet of everyone that I needed to come on board. We even had Beyonce walk. But what made it special, why I love doing Fashion for Relief, is it's not for the fashion crowd, it's for the public. The public never gets to really see what we do and it's a form of entertainment. They also get to own a part of what we do - you can buy everything that you see on the runway.
How do you think racial bias in the fashion industry is changing?
It's changing but I'll never stop speaking to make sure that people know it's not a trend, because that's the problem: you have to make sure that it's consistent. That it's maintained throughout. I couldn't be happier right now with the way things are going in my industry, for the balance of diversity, to the point where I cried yesterday, actually, at work, because it's something that I recognised when I was 17 or 18 years old. I stood up for myself then but I find that it's not just standing up for myself. The last two decades have been standing up for a future generation after me and making sure that they're treated in a fair way, because they'll be fearful to open their mouths and speak out in case they don't get the job. I am always very optimistic, and today I'd say I'm proud. There's still a lot of things we can do. There are a lot of publications. Actually, we want Conde Nast in Africa, and it will happen.
What drew you to the #TOGETHERBAND campaign?
The connection of what it stands for by the colour code; it makes you decide what goal you really want to choose that you resonate with. It makes it human. Everyone really has to think about what it is that affects them the most. The whole way that it is made from the bottle top fascinates me, too. I've travelled in Africa a lot and I've seen how they use bottle tops to make art, just so creative and artistic.
Who are you sharing yours with?
I actually am going to share my band with Edward Enninful, who is like a brother to me. He's the Editor in Chief of British Vogue, he stands for gender equality and balanced diversity, being one of the first men to have the position of his job, we're all extremely proud. And he has just been a real champion of all these issues since the day he's got there. He's sticking to them he's supporting it 100%, so I couldn't think of anyone better to share my second band with.
How does it make you feel when you wear your band?
When I wear my #TOGETHERBAND, I feel connected to the cause of the Goal that I've chosen. I'm wearing it to be a constant reminder that I am blessed but I have to continue to help those causes that adhere to me.
Join the #TOGETHERBAND movement. Make the commitment to choose the goal that suits you. Go on social media, talk to your local MP representative. Keep opening your mouth - which is something I've always done - until you see it's been taken notice of, until some action has been taken. Once the action has been taken, never stop. Always continue. I don't believe in the word no. You're going to always need to maintain and continue to drive that message home to those that need to hear it. Because it's something that shouldn't be and cannot be ignored.